From June 13th to 16th, a part of our team attended the Eurostar Conference held in Antwerp, Belgium to present Gravity and Yest (the two products by Smartesting)
Our booth
We participated as sponsors, so we had the opportunity to have a booth where we showcased Gravity and Yest. We are happy to have been able to meet many people, discuss their needs and engage with them about our tools.
A quick reminder about the 2 products :
Yest : It's the historical product of Smartesting. Yest is a visual design and automation tool for functional tests in agile environment
Gravity : Is the new product of Smartesting. Gravity is a web app that allows you to know what your users actually do in order to produce the right tests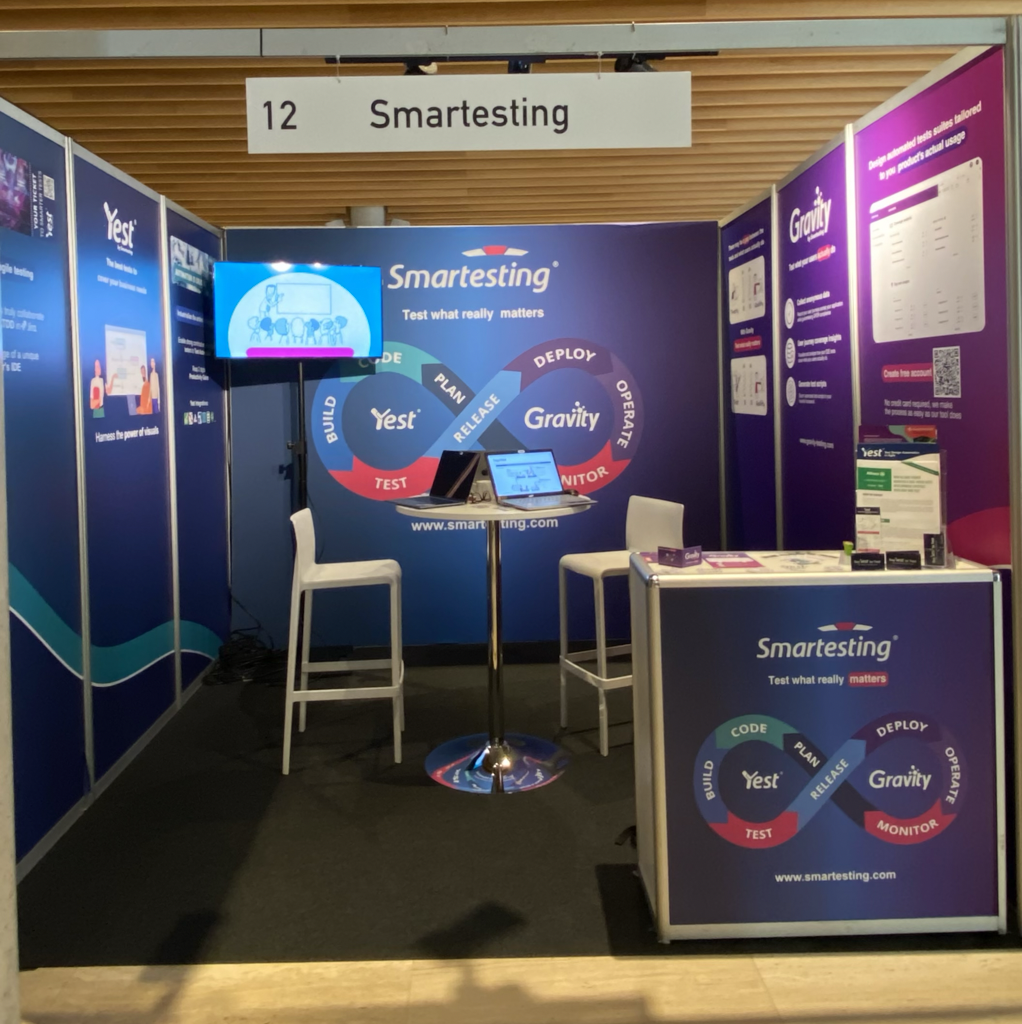 The Conference
Presentation
The Eurostar Conference is a renowned and highly anticipated event in the software testing and quality assurance industry. The event takes place in different places in Europe, this year it was Belgium. Eurostar serves as a premier gathering for professionals, experts, and practitioners to come together and explore the latest advancements, trends, and best practices in the field.
Attendees
The Eurostar Conference attracts participants from around the world (mostly in Europe) including software testers, quality assurance engineers, test managers, and other professionals involved in software development and quality assurance processes. It covers a wide range of topics related to software testing, test automation, agile methodologies, DevOps, continuous integration, and more.
Program
The Eurostar Conference 2023 program was packed with exciting sessions and opportunities for professionals. Here's a brief overview:
Keynote Speeches: Inspiring talks by industry leaders, setting the stage for the conference.
Technical Presentations: Experts share insights on test automation, performance testing, security testing, agile methodologies, and more.
Experience Reports: Real-world project accounts highlighting challenges, successes, and lessons learned.
Workshops: Interactive sessions for hands-on learning and skill development.
Panel Discussions: Industry experts discuss trends, challenges, and best practices.
Lightning Talks: Quick presentations on various testing topics.

Anne Kramer's tutorial
Our colleague Anne Kramer held an engaging tutorial titled "Sharpen the Axe! An Adventure Game about Test Automation".
The tutorial was designed as an adventure game, immersing participants in a playful and engaging environment. Furthermore, attendees had the opportunity to tackle typical challenges faced in test automation, such as managing chaotic product backlogs, dealing with legacy test scripts, and addressing coverage issues within limited time constraints.
Throughout the tutorial, participants formed groups of four individuals and delved into well-established test design methods. Decision table testing, model-based testing, behavior-driven development (BDD), and keyword-driven testing were among the techniques explored. These practical exercises enabled attendees to apply these methodologies and develop effective test strategies.
As the game progressed, Anne introduced unexpected events and obstacles, offering additional learning opportunities for the participants. Anne actively encouraged the groups to discuss and share their approaches, experiences, and insights with the broader audience, fostering a collaborative and knowledge-sharing environment.
It was a really great and valuable experience, thank you, Anne !!
Conclusion
Beyond the formal sessions, the Eurostar Conference fostered a sense of community. Informal discussions over coffee breaks and networking events allowed for valuable conversations and connections that extended beyond the duration of the conference. The sense of camaraderie and shared passion for improving software quality was truly inspiring.